Last night in Winston Salem I was able to put my eyes on Chicago Cubs shortstop prospect Gleyber Torres. Torres signed out of Venezuela in 2013 when he was listed as the #2 international prospect. Since he began playing minor league ball in 2014, he has done nothing but solidify his prospect status. This season he started as Baseball America's #1 Cubs prospect and has played in the Hi-A Carolina league as a 19 year old where he began the year as the circuit's second youngest player. Listed as 6'1" 175 lbs., he looks the part of an athletic shortstop.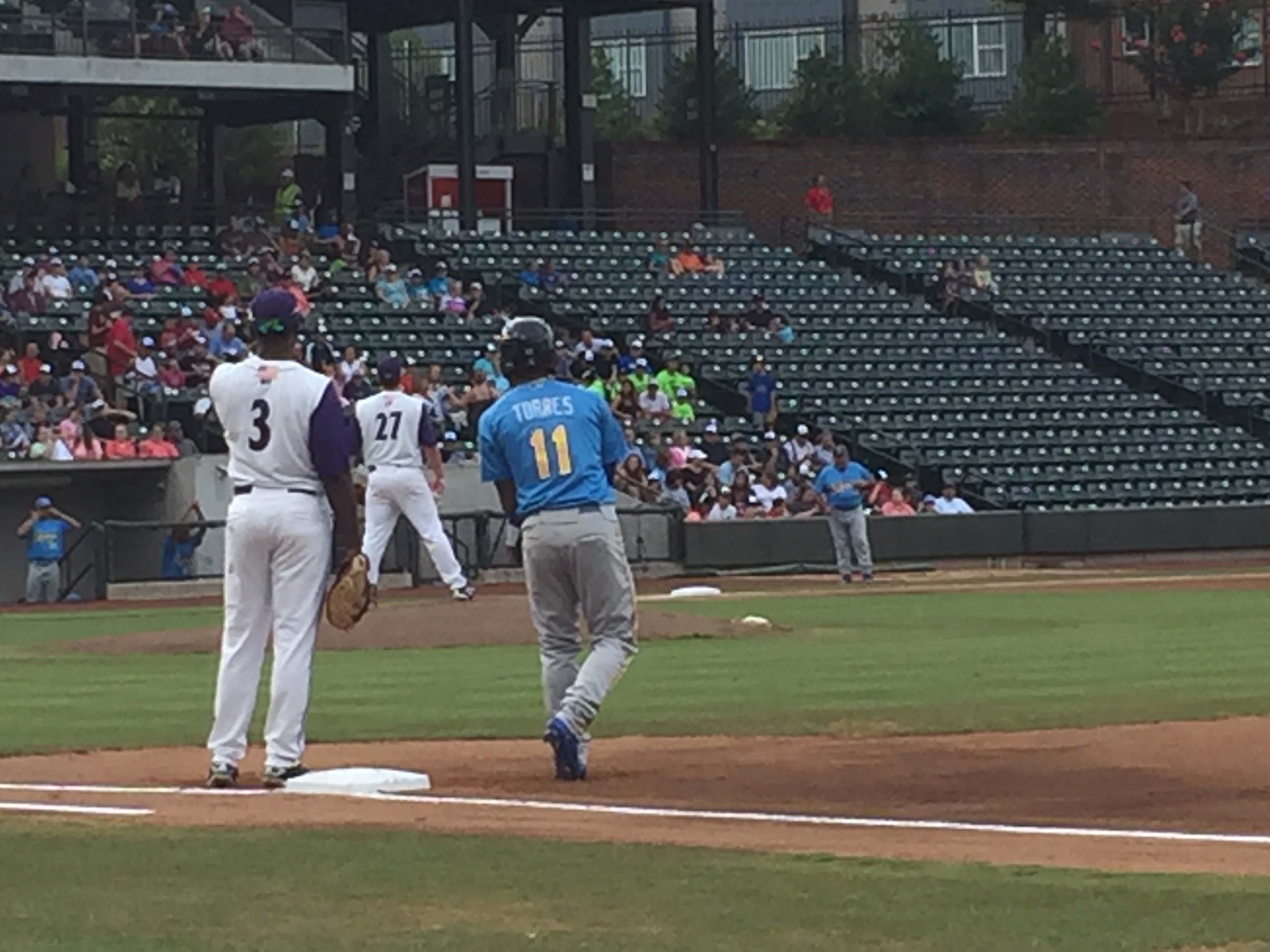 I know it was a one game sampling, but I have to say, Torres looked fantastic. On this night he appeared to be one of those players that has the ability to slow the game down and he possesses the confident swagger of a superstar. His plate approach was extremely advanced. His right-handed swing looks very much like a toned down version of Javier Baez. He keeps his hands high, utilizes a pronounced waggle with a toe tap and steps into every pitch. He worked deep counts all night and managed to coax three walks. His second plate appearance was impressive because he managed to flick his quick wrists to foul off a 2-2 curveball that he was clearly fooled on before working the count full and smashing a two run double into the gap to end an eight pitch at bat. He reached base in his first five at bats with two doubles and three walks. In extra innings, Torres showed a little impatience while swinging at the first pitch in his 6that bat. In his final showing at the plate he showed nice bat control and tried to bunt a ball up the third base line but was out on a bang-bang play.
In the field he looks smooth and effortless, displaying quick reflexes, smooth footwork, and an accurate throwing arm. It seemed to me that he might have mentally checked out for one batter that hit a slow roller up the middle for a hit. Perhaps my expectations were too high because I felt like I had been watching Super Man all night and suddenly he didn't even make an effort. Just like in his sixth at bat, when he swung at the first pitch and hit a grounder to short, he didn't display a lot of effort running the ball out. No need to take these observations out of context, I came away extremely impressed with Torres. A young player is entitled to an occasional lapse.
Torres speed is above average but his approach to stealing bases and reading pitchers needs some refinement as is evidenced by his 50 sb and 30 cs in his minor league career.
Overall, Torres has plus tools across the board and is extremely polished for a player his age. With further experience and by building his 19-year-old body for the grind of a 162 game schedule he has all the makings of a perennial all-star. His future is very bright.