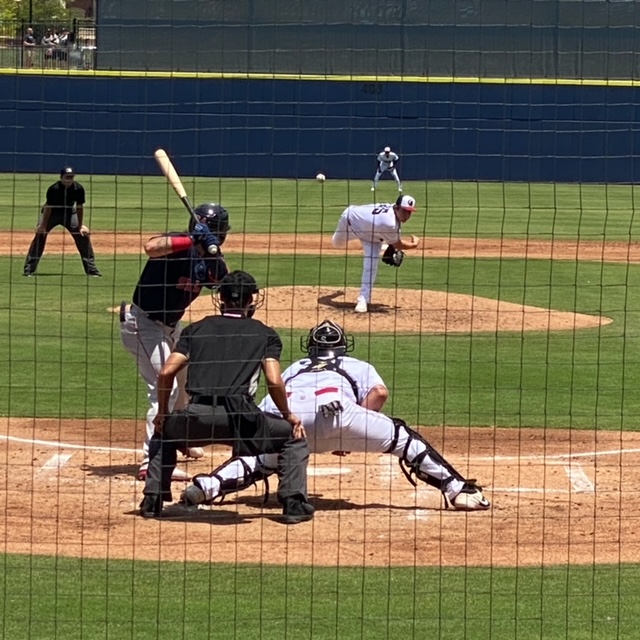 Occasionally in my writing I go down a rabbit hole. This phenomenon generally occurs when I try to expand my knowledge of the game by asking smart baseball people to allow me to delve into their minds. Recently I began traversing one of these as I tried to see through a player's lens just what they thought were the keys to being a successful pitcher. I wanted to know if there was a "blueprint" for pitching excellence. Pitchers of all different body types and skill sets have thrived at every level of development from little league to the major leagues. I wanted to know if there was a universal key to unlock the vault of pitcher's mound prowess.
In my quest for answers I asked several players to rank the following intangibles in a hierarchy of personal importance to their success. As an evaluator I have noted that the following traits seem to be paramount to successful pitching:
Composure-The ability to maintain focus and execute pitches regardless of game situation and extraneous factors.
Location-The ability to spot the ball with intent.
Velocity-The ability to throw hard (raw power) … the simplest of measurables.
Movement-The ability to throw pitches that possess a combination of sharp horizontal and vertical break often referred to as two-plane break.
Sequencing-The skill of identifying a hitter's strengths and weaknesses to know what pitch to throw in any situation. Properly executed sequencing serves the pitcher by keeping hitters off balance and on the defensive.
With these intangibles identified I reached out to my panelists:
Former big-league all-star and White Sox great "Blackjack" McDowell
White Sox scout John Kazanas
AAA and two-time team USA reliever Tyler Johnson
AAA Charlotte Knights reliever Lane Ramsey
AA pitchers Andrew Perez, Will Kincanon and recent White Sox 40 man roster addition Jason Bilous
Baltimore Orioles AA pitcher Drew Rom
Drew Rom
I started this fact-finding mission after noting that Drew Rom seemed to possess a pitching skillset far beyond his age. He was a ballyhooed draft pick for the Orioles and had great success in class A baseball without the benefit of extreme velocity. In short, Rom just flat-out knows how to pitch. Here are his thoughts.
The 6'2" 200 lb left-handed starter ranked my list of intangibles in order from most to least important like this.
Sequencing
Location
Velocity
Composure
Movement
Expounding on the topic he offered, "For me these are all really important to the game and it's better to have a mix of everything, but the smarts and location aspect is what I think is most important because you are able to know what works and what doesn't. Combine that with location and you don't necessarily need overpowering stuff to get hitters out. You're just throwing where they can't hit it. Other than those two traits, the other three can really be ranked in any order for me. Although velo is important in today's game and always will be, there are other things that go into being a pitcher rather than a thrower. The game is 80-20 or 90-10 mental."
Andrew Perez
Birmingham Barons LH reliever Andrew Perez 6'2" 215 lb
Sequencing
Velocity
Location
Composure
Movement
"I do believe that velocity is important. For me in pro ball I have had success even just throwing my fastball, but with that my ability to show velocity from the left side gives me an opportunity. Now putting together location and velocity you have a high-level career which is what everyone wants. Even as time goes on movement is so critical the more you play and the longer you are around."
Will Kincanon
Birmingham Barons RH reliever Will Kincanon 6'3" 235 lb
Location
Composure
Velo
Movement
Sequencing
"When you have stuff and velo you don't have to be pinpoint, just aim for a better surface area and let your stuff play. I mean the ability to throw strikes is huge, but I think pinpointing the location isn't a big deal if you have velo and stuff. Now if you don't have velo and stuff location becomes the focus."
Jason Bilous
Birmingham Barons RH starter Jason Bilous 6'2" 185 lb
Location
Sequencing
Movement
Velocity
Composure
"You can throw as hard as you want but if you throw it down the middle it's most likely going to be hit over for a home run. If a pitcher could spot up and hit every single spot he wanted every single time there would be perfect games all over the place. That's why I ranked location first. Knowing what to throw also helps because even if you throw your best pitch of the game in the wrong count the hitter might hit it. Movement and velocity are kind of the same for me in the fact that obviously if you have very good movement on your pitch or higher velocity you can get away with a lot more stuff than if you throw slower or don't have as much bite on your pitches. I would say composure is different pitcher to pitcher, some people wear their emotions on their sleeve and others do a good job of hiding it. I think it really depends on the pitcher.
Lane Ramsey
Charlotte Knights RH reliever Lane Ramsey 6'9" 245 lb
Velocity
Location
Composure
Movement
Sequencing
"All are obviously important. Velocity is king. If all your pitches are higher tiered in velo the movement matters less, especially when you add location. Command plus velocity is deadly. I give composure the advantage slightly over movement because this game is crazy and has so many failures. You can throw a great pitch and it gets sent 400 feet; it takes composure and focus to continue and press through."
Tyler Johnson
Charlotte Knights RH reliever Tyler Johnson 6'3" 210 lb
Composure
Location
Movement
Sequencing
Velocity
"At our level composure and mental strength are difference makers between a guy in the bigs and someone who sits in AA. Sequencing may matter more for a starter however so take that into consideration."
John Kazanas
White Sox scout John Kazanas: Kazanas belongs in my personal Scout Hall of Fame for recognizing the talent and signing Sox all-time great Mark Buehrle.
Sequencing
Velocity
Location
Movement
Composure
"A combination of sequencing and velocity is the foundation." Kazanas expounded on location stating, "There are nine different locations of strikes and hitters can't hit all of them well. If a pitcher understands a hitter's heat map and knows how to avoid a hot zone, he can have success all day."
Jack McDowell
White Sox great RH starter Jack McDowell
Location
Sequencing
Velocity
Movement
Composure
"Location and sequencing are the two items that define pitching. Baseball is about pitch by pitch adjustments and preparation. That's what is being lost in the game with the ridiculous metrics takeover."
So, folks there lies the answer. There is no answer, no Rosetta Stone, no Flux Capacitor, no Continuum Tansfunctioner that holds the key to being a successful pitcher. All of these intangibles are important to each individual on a personal level. Nolan Ryan's blueprint for pitching success was very different from that of Kyle Hendricks. Every one of these accomplished baseball minds saw things slightly different from the others. The only universal constant is the joy we derive from watching a pitcher who has mastered his craft.