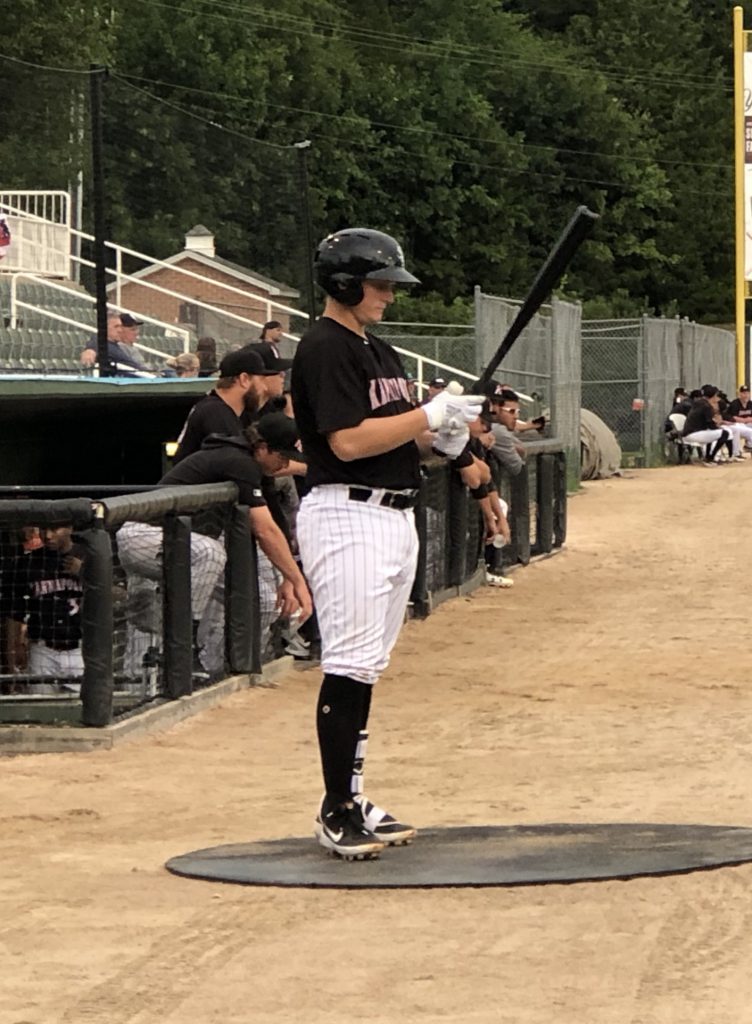 ANDREW VAUGHN
Physical Description: If you ever wanted to win money by making a bet in a bar I would take the under on Vaughn's listed six foot height. Body wise, he possesses a solid sturdy build, wide in the hips with a thick trunk and lower half. Although he is only 22, he has limited remaining physical projection for his frame.
Hit:
Vaughn's swing is a beauty to behold. Very balanced with a wide base and neutral stance. His pre-swing routine is fairly quiet with only a slight waggle. His approach is exceptional as he effectively straddles the line between patience and aggressiveness. He initiates the swing sequence by raising his front knee to the waist high position and allowing his foot to fall in the same spot from which he started, this move begins a chain reaction that maintains a rotational connection between his upper and lower half. When he commits to taking a swing he very rarely gets cheated or finds himself fooled or off balance. His lightning quick hand speed allows him to foul off a pitcher's best offerings while hunting for a pitch he can drive, his bat speed is viper-like. He recognizes spin well and optimizes his chances by keeping the bat in the zone for an extended time, no noticeable holes. He was the most complete minor league hitter I saw in 2019.
Grade: 60
Power:
Although he can hit the ball hard to all fields all of his 2019 home runs were to the pull side. His power is the derivative of a very efficient swing in which he maximizes the use of his thick lower half. He also has tremendous hand-eye coordination supported by lightning quick wrists.
He currently displays more of a two-iron swing geared for consistently high exit velocities rather than towering fly balls. In my looks he very rarely takes an "excuse-me" swipe at the baseball, rather he commits and puts forth his best effort on nearly every swing. I believe that he will consistently hit 25-30 home runs a season in the big leagues, possibly more as we have seen many players power numbers take a step forward when introduced to the MLB baseball.
Grade: 55
Field:
Drafted as a first baseman, he was taken for his ability to be a game changer from the batter's box. Although the White Sox reportedly had him taking reps in the outfield and at third base at their alternate training site, his lack of foot speed will likely relegate him to first base or designated hitter. He possesses fast-twitch reflexes and moves well laterally which should support him being at least an average defender. He is a student of the game and was immersed in video tape, watching the Oakland A's Matt Chapman in an effort to improve his hop. In my looks he was occasionally out of position when not directly involved in the play. He has been praised by his teammates for being a hard worker and for possessing solid all around character; attributes that bode well for his coachability.
Grade: 50
Arm:
Vaughn has a background as a two way player, but that was during his prep career, he has the arm strength and accuracy to make the throws required of a first baseman.
Grade: 50
Speed:
He's not fleet of foot and loses a step out of the box as a right-handed hitter, but who needs to run fast when you are hitting missiles?
Grade: 40
OFP
55 Above average major league regular and occasional all-star
Vaughn's future is nearly 100% driven by his offensive profile which will give him both a high ceiling and a high floor. He should have no problem filling a role as perennial middle of the order run producer. He checks all the boxes of what you want to see in a young hitter: Solid approach, fast hands, excellent vision, pitch recognition and the ability to handle exceptional velocity and hit to all fields. He plays within himself; rather than trying to pull everything he sees, he has no problem hitting the ball where it is pitched. This skill set suggests that he will be a fast riser through the system and it wouldn't be a stretch to see him exceed this somewhat conservative OFP.
MLB Comps: Floor Brandon Belt Ceiling Freddie Freeman