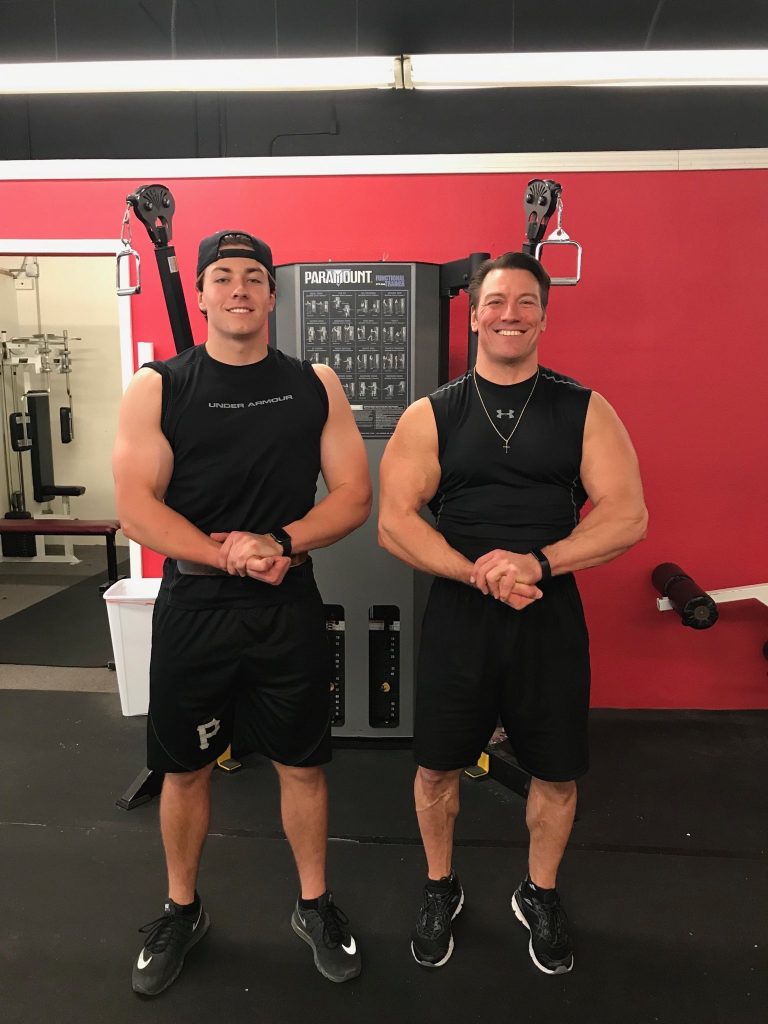 During the 2019 season, one of the highlights for the Pittsburgh Pirates player development system was the emergence of first base prospect Mason Martin. In addition to being named an organizational All-Star, he was honored as the Pirates Minor League Player of the Year and nominated for a MiLBY (Minor League Baseball Yearly) award as Offensive Player of the Year. Not too shabby at all for a kid taken in the 17th round of the 2017 draft.
In order to be great, one must possess not only elite physical skills, but also an insatiable appetite for self-improvement and competition; in short, a will and determination to be the best. Sure, we throw around these terms about the "intangibles" and kids playing with "heart," but pure work ethic can only go so far without the skills (think Daniel "Rudy" Ruettiger). Many have possessed the skills but lacked the drive or the discipline to maximize their potential. These are the players that often have the fans thinking "what if?" years after their playing careers have ended (think Darryl Strawberry). However, when the paths of truly elite talent, work ethic, and competitiveness collide, the results are often spectacular (think Michael Jordan). In the not-too-distant future, Mason Martin is going to help validate this formula at a ballpark near you.
At home in Kennewick, Wash., Martin was a two-sport athlete. As a high school quarterback, he used his arm and legs to help lead his Southridge team to its first playoff berth in five years. As his father Chad shares with Bucs Dugout, "He was 6'1", 205 and he liked lowering his shoulder and running guys over." There was more to his game than power, though, as Martin was clocked running a 4.63 40-yard dash. This time would have put him squarely in the top five at the 2019 NFL combine when compared with both quarterback and tight end prospects. For video highlights of Martin's high school football career follow the link below to the maxpreps website.
https://www.maxpreps.com/m/athlete/mason-martin/6D31mSQ_EeS00gAmVebEWg/videos.htm
On the baseball diamond, Martin logged time at first base, third base, outfield and pitcher, his fastball was clocked as fast as 90 mph. At that time Mason was known for his prodigious left-handed power, a tool that served him well as he was invited to the International Power Showcase in Miami. Although he didn't win the event, Martin turned heads hitting a 493-foot blast with a metal bat and a 400-foot bomb with a wood bat. Approaching the 2017 draft, Baseball America had Martin slotted 312th in their rankings of the top 500 MLB draft prospects, which would project him as a 10th or 11th round selection.
In 2017 when the Pirates selected Martin on the third day of the draft, the Gonzaga commit had a decision to make: "My dream since I was a six- or seven-year-old kid was not just to be a major league baseball player, but to be a GREAT major league baseball player. Coming out of high school my goal was to get drafted and sign. I'm very glad the Pirates drafted me. This is a great organization to develop in. The information and help I've gotten is insurmountable when compared to what I would have gotten in college. Gonzaga was a great fit, but I really wanted to start working toward my goal of playing professionally."
Martin suggests that at some point all 30 teams had expressed varying degrees of interest in him, but Pirates scout Max Kwan was the most vigilant. Kwan's confidence in the young slugger prompted the Pirates to sign Martin for a significantly over-slot $350,000 bonus, which is a figure typically associated with prospects drafted in the fifth round.
When he reported to the rookie Gulf Coast League following the draft, Martin experienced some initial growing pains. "It's a tremendous jump from high school straight to pro ball — every pitcher on every team would be the best pitcher in my high school conference," he says. "I struggled initially and thought my teammates were probably thinking, 'Wow, how did this guy get drafted?' The speed of the game was dramatically different, but without the failure I would have never learned to adjust."
To understand Martin's definition of "failure," look at his GCL game logs. He started by going 1-for-13 with seven strikeouts in his first four games. After this brief adjustment period, Martin went on a torrid 12-game streak, hitting .488 with seven home runs and 15 RBIs.
"If I made my personal goals public, people would laugh in my face. I set my goals outrageously high, and will do anything to make them a reality."

Mason Martin
How could Martin have possibly felt that his first four games of pro ball could be construed as a struggle? "I am my hardest critic," he admits. "I expect perfection of myself which is nearly impossible in baseball, but I feel that gives me an edge because I've set the bar so high that being great isn't good enough. If I made my personal goals public, people would laugh in my face. I set my goals outrageously high, and will do anything to make them a reality. I'm not competing with the guy in front of me or behind me; I'm seeing if I can push my limits every day to see how good I can really become. I feel that if I get content or satisfied it will stop me from reaching my potential."
To begin the 2018 season Martin's performance was rewarded with an accelerated promotion to the full-season South Atlantic League, where he began the campaign as one of the youngest players in the circuit. However, the aggressiveness of the promotion shone through as Martin scuffled while hitting .200 with four homers and 62 strikeouts in only 45 games. He was then demoted to the advanced rookie league, where he finished his season with the Bristol Pirates. There, his struggles lingered while the strikeouts continued to pile up.
"My 2018 season wasn't what I wanted or expected," Martin says. "There were some hard learning experiences, and I grew by going through them. I sat down and reflected at the end of the season and said, 'That's not what I want.' I set a goal to adjust and get better."
Martin also shared that he didn't feel he was in optimal shape to play a 140-game season. During the offseason this student of baseball read and digested the Ted Williams book, "The Science of Hitting." As he prepared for his breakthrough 2019 season "I definitely had a chip on my shoulder and wanted to prove my GCL year [2017] wasn't a fluke."
To prepare his body for the grind of the baseball season, Martin makes weightlifting a priority in his daily training regimen. His father Chad is a professional body builder and a member of the Natural Body Builder's Hall of Fame, so it's safe to say that discipline and sticking to a routine was ingrained upon Martin at a very early age. "[During the offseason] My dad and I maintain a strict lifting schedule that revolves around building strength," Martin says.
As a result of his devotion to strength training, the now-6'2",225-pound Martin has an extremely chiseled appearance; quite frankly the kid is jacked, possessing 16 ½-inch biceps, a 46-inch chest and a 35-inch waist. However, Martin isn't just sporting a beach body, he can dead-lift 505 pounds and squat 475. In addition to weight training, Martin maintains flexibility and muscle functionality by doing yoga three times a week, along with speed and agility work: "I train for strength, but I also want to focus on moving better and more efficiently."
Martin rewarded the Pirates organization for their faith in his abilities in 2019, while also proving the value of his hard work in the weight room. His 35 home runs put him in fourth place among all minor leaguers while his 129 RBIs gave him sole ownership of the title. Keep in mind, Martin's totals were not inflated by playing in the hitter-friendly environment of the Pacific Coast League, or even in Triple-A where he would have benefited from hitting the tightly-wound, drag-resistant major league baseball. Conversely, Martin did his damage in two of the most offense-suppressing environments in the minor leagues, the Low-A South Atlantic League and the Advanced-A Florida State League. Although First National Bank Field, where Martin's Greensboro Grasshoppers play their home games, is one of the best hitter's ballparks in the SAL, he produced significantly better numbers in his road games. On the road, Martin slashed .301 with 12 HR, 50 RBIs and a 1.059 OPS, while at home he hit .221 with 11 HRs, 33 RBI and an .800 OPS.
In addition to producing gaudy offensive statistics, Martin also demonstrated a flair for the dramatic, seeming to thrive in pressure situations. On April 19 against the Lakewood BlueClaws Martin delivered walk-off home runs in both games of a doubleheader. "That was the coolest experience I've ever had on a baseball field," he says. "I think the first one was my first walk-off hit ever. There was a crazy energy with my teammates mobbing me and dumping Gatorade all over me. Then I got the chance to do it again in the next game. It was almost like I could feel it in the air when the second opportunity presented itself. I felt like I was in a dream state when it happened again. It was just an awesome atmosphere with the fans and my teammates going crazy."
Over the course of the season, Martin also displayed a penchant for delivering in bases-loaded situations, where he went 8-for-15 with three home runs and 26 RBIs.
In just a few short months it will be interesting to see whether the Pirates throw Martin into the deep end with a promotion to Double-A or start him off with a return engagement in the Florida State League, where the 20-year-old will still be younger than par age for the level. Whatever is in store, the youthful slugger isn't resting on his laurels.
"In my current development I feel as if I haven't yet reached my best physical playing shape," he says. "Last spring training I was in the best playing shape of my career, but I still felt as if I came into the season with too much fat on my body. If I can reduce my body fat I will move better on the basepaths and in the outfield. It will unlock more explosiveness and lead to more strength. I expect to come into spring training this season in peak physical condition, and it all starts in the offseason."
Minor league pitchers should be very afraid.