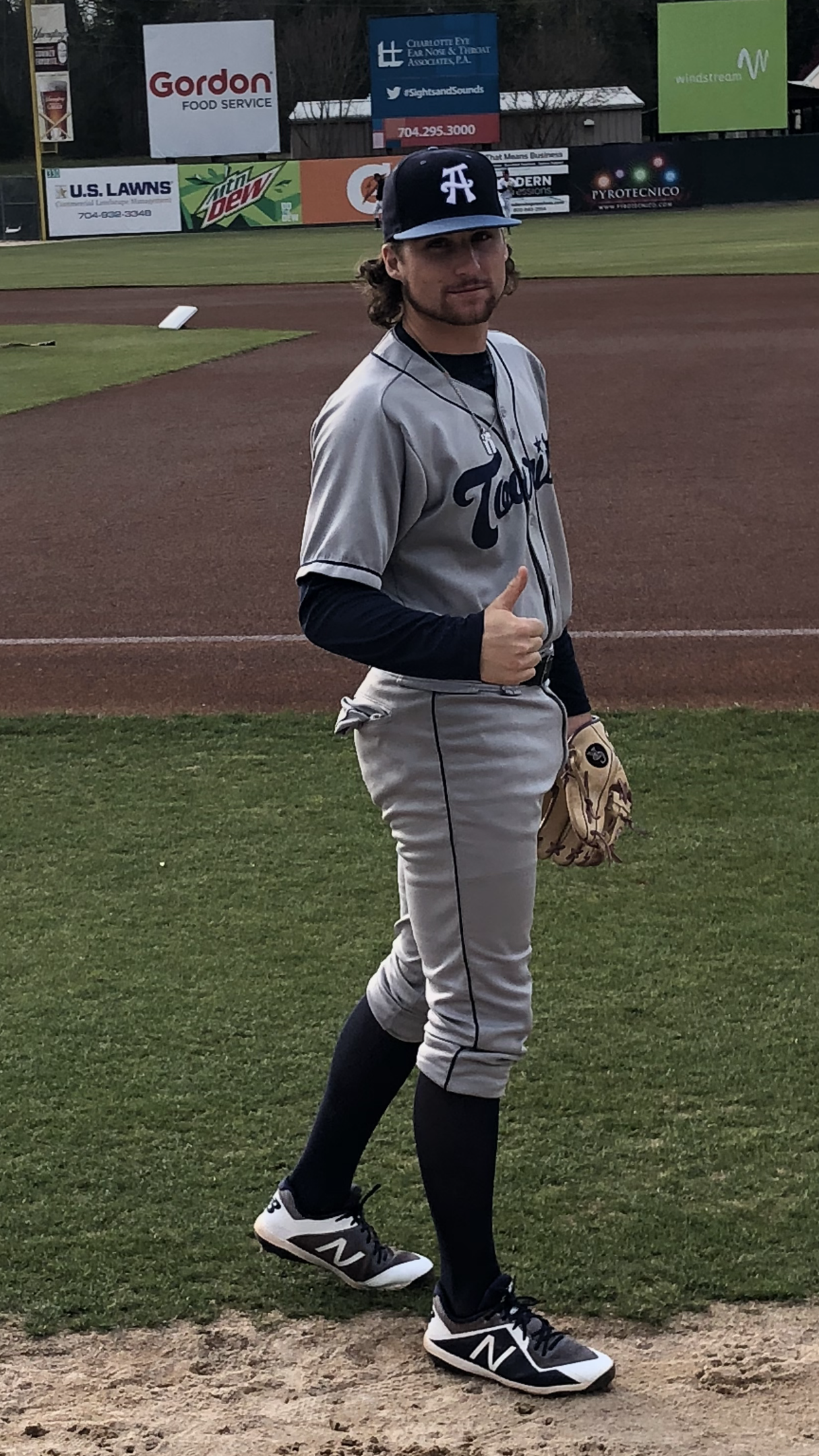 Out of all of the prospects beginning their seasons in the SAL, one of the players I have been most excited about getting my eyes on is Ryan Vilade. As a 19 year old getting his first taste of full season professional baseball, his reputation precedes him. Vilade was literally born with a bat in his hands. His father is an assistant baseball coach for Oklahoma State. He was once a fixture on the Team USA, 15-and-under national team. He was frequently the three-hole hitter on the 18-and-under US National team. While playing high school ball in Oklahoma, he was selected as Gatorade's State Player of the Year. To quote Ron Burgundy… "He's kind of a big deal." The Rockies snatched him up with their first pick (2ndround) of the 2017 MLB draft (48thoverall). His signing bonus of $1,425,400 was slot appropriate and served as the catalyst for Vilade choosing to forego his commitment to OSU. Did I forget to mention he was a Rawlings-Perfect Game First Team All-American, or that he was the winner of the Under Armour High School Home Run Derby?
He began his professional career by showing a flair for the dramatic, homering in his first at bat for Grand Junction. By the end of his Pioneer League season, he had produced a .308 AVG and .438 OBP while hitting 5 HR; more impressively he walked 27 times while striking out 31, displaying plate discipline and strike zone judgement usually commensurate with older players. At the completion of the Pioneer League season, Baseball America's Bill Mitchell recognized him as the #6 prospect in the circuit.
I was able to catch Vilade in the first two games of a series against the Kannapolis Intimidators and came away impressed. The bat speed is palpable, and I believe he will continue along his current trajectory of becoming a middle of the order force. Having just turned 19, he is already serving as the Asheville Tourist's two-hole hitter. He played shortstop during my first look and served as the DH in the second game. One of the things I noticed is that he appears to be a fiery competitor. I observed that he was visibly agitated when he felt as if he had missed his pitch during his first plate appearance. He ended up coaxing an 8 pitch walk after working the count and fouling of several pitches. He also let out a resounding cheer when he came in to score the lead run late in the game. At the plate, he takes his cuts from the right side, assuming a wide stance with his back elbow high, his hands sit above the shoulders and he maintains a slow rhythmic waggle until he begins the swing. He sets his feet in a neutral position and takes a short stride into the pitch. The bat speed is explosive but his swing currently looks more conducive to line drives. I liked the approach and would describe it as measured but aggressive. In the ten plate appearances I saw he seemed comfortable in any count and didn't seem to mind waiting for his pitch, he also didn't hesitate to let it rip on the first pitch. He is listed at 6'2" 194 and that appears to be close. In my assessment he might be ten pounds heavier, but it's additional good weight. With the high stirrups and lean athletic build, he looks every bit like a professional baseball player.
Professional evaluators suggest he will outgrow his position as a shortstop, but during my look he appeared to have a quick first step, and he played adequate defense during the first game. During the second game, he played DH but had some poor at bats (0-5 with 3 strikeouts), including one in which he bailed out on a couple of breaking balls that crossed the plate as strikes. The pro scout I sat with clocked him at a very slow 4.66 to first base out of the right-handed batter's box, but I don't believe he was going all out on a routine grounder. I am looking forward to watching him mature as a player this season and believe the Rockies have found a real gem. I am not convinced that shortstop is where he will end up defensively but his bat is going to be able to play anywhere. I predict a SAL All-Star appearance in his near future, and a Brendan Rodgers like ascension through the minors.