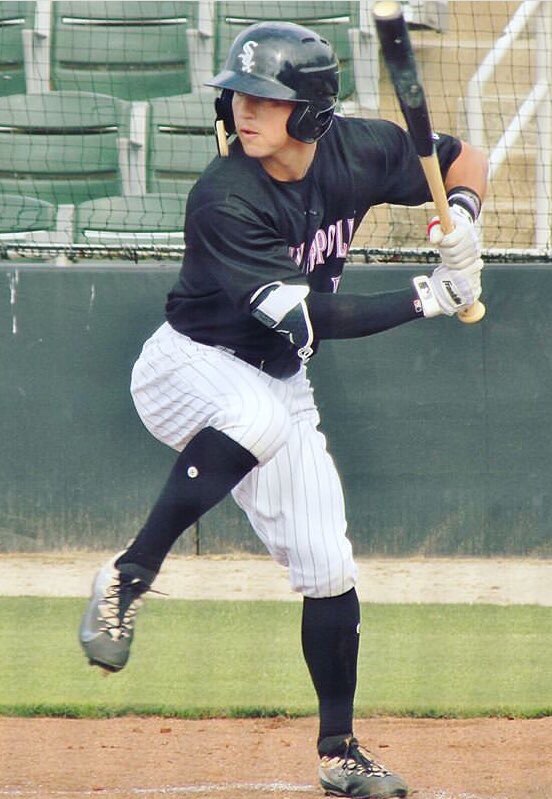 If you've been watching baseball for a long enough time, you've probably heard the term "dirt-bag." Dirt-bag is a complimentary term used to describe a player who does more with less. The dirt bag hustles on every play, he stays mentally engaged, he leaves it all out on the field, and when the game is over, he walks off with a soiled uniform; the dirt symbolizing the battle scars of a valiant effort, win or lose. In 2018 the Kannapolis Intimidators right-fielder Tyler Frost exhibited all of those traits. He did more with less, leading the Intimidators in home runs with 18 in spite of his smallish 5′ 10″ 17o pound frame. He always hustled, displayed high energy, and did whatever it took to help his team win. Tyler Frost is a throwback, he looks as if he walked out of the cornfield to join a pick-up game in the movie Field of Dreams.
Tyler Frost has been a baseball over-achiever for a very long time. Playing prep baseball at Greenway High School in Phoenix, Frost garnered national attention by winning Arizona's Gatorade Player of the Year award following a season in which he pitched his way to a 12-1 record with a microscopic 0.26 ERA while hitting .406 with 7 HR and 42 RBI. His team finished 29-4 and won the Division II state championship. On the strength of his pitching, Frost earned a scholarship to Gonzaga where he proved his bat was also capable of being a game changer. During his junior year he led the Zags in HR (9) RBI (38) and R (41). The Chicago White Sox selected Frost in the 15th round of the 2017 draft and rewarded him with a 75K signing bonus before assigning him to the rookie league affiliate in Great Falls.
After having tremendous success in both high school and college, his numbers were a little more down to earth in professional baseball (.261 AVG .335 OBP 4 HR 26 RBI in 32 games at Great Falls). Frost reflected on the experience, "Going from college to the pros is definitely humbling. Everyone at this level has the skill and the tools, what separates us as players is the mindset and consistency." He also recalled some words of advice he received from Aaron Rowand about riding the baseball roller-coaster. "One day you're at the top with no worries and the baseball looks as big as a beach ball, then all of a sudden you find yourself at the bottom looking straight up thinking there's no way to get back up there. The goal is to stay on an even keel and focus on one at bat at a time."
The 2018 season was a series of peaks and valleys for Frost. In April, his first month of full season baseball, he hit .270 with 4 HR despite striking out in a whopping 30 of his 73 at bats. His production cratered in May when he hit .153 in spite of lowering his strikeout rate while improving his walk rate. After that his stat line showed steady improvement on a monthly basis as his batting average and on base percentage increased each month while his strikeout rate declined. Perhaps most encouraging was the fact that he finished the season on a strong note hitting .280 with a .374 OBP and .854 OPS in August, a time in which many rookies hit the wall as a result of fatigue from the long schedule. Frost recalls, "I was definitely gassed at the end of the season. Figuring out my body was key and now I know what I need to do. Staying in a routine is a key for me when taking care of my body."
Frost is a picture of physical fitness as his body fat is almost Bruce-Lee'esque. He said he has taken his conditioning very seriously since he started cross-fit training as a high school sophomore. He maintains a focus on lower body and core strength while ensuring he stays loose and flexible. The North Carolina heat, daily baseball grind, and long schedule coupled with the efficiency of his muscular body make it very difficult for him to maintain his weight during the season. Frost suggests he has to sustain a high-calorie intake and stay on a regimented eating schedule to keep weight on. He identifies similarly framed Boston Red Sox outfielder, Mookie Betts as an example of what his ideal body should look like.
In the batter's box Frost hits from the left side with a neutral stance and a fairly quiet set up, with his hands and right elbow stationed approximately letter-high. An American league scout offered, "He has an uphill launch angle that helps him get to some power." So far his power has definitely been to the pull side as 17 of his 18 home runs have been to right field. Frost said he has to be careful not to become "pull happy" following a home run. "I definitely try to do too much on the next swing, staying within myself is what I need to do. I need to trust that staying under control is when I have the most power in my swing." He says his mantra in the batter's box is simply, "Do damage! I'm geared up for any pitch I can handle." He also recognizes the need to maintain discipline and make the pitcher come to him with something he can hit, even if it means waiting until the next at bat.
In the outfield his defense is complemented by his plus speed and throwing arm. He racked up 13 outfield assists with the help of his 60 grade arm. Kannapolis manager Justin Jirschele offered his praise, "Defensively he can play all three outfield positions, along with the ability to run down balls in the gaps he has an above average arm out there." Jirschele continued, "He's the type of player you love to have on your team because of everything in his basket. Offensively he can drive balls out of the park to all fields, when he gets on base he's a threat at any time to steal bags."
White Sox fans have a player to be excited about in Tyler Frost. He sports an impressive baseball resume, off-the-charts makeup, plus power, defense, and throwing arm. The hit tool is the one area that is currently behind but it was trending positively through the entire season. The American league scout quoted previously suggested that he sees Frost as a future major-leaguer that could see time shuttling between AAA and the big-league roster. As I have seen Frost develop throughout the season and have oft referred to him as "the little engine that could" I won't place a similar ceiling on him and instead believe that Tyler Frost is the kind of player that has surprised people his entire baseball life, the minute someone tells him he can't do something, is the minute he proves them wrong.