[wpvideo bb59E7zb]
The 2017 and 2018 baseball seasons saw many quality White Sox prospects pass through the SAL by way of the Kannapolis Intimidators.  Intimidators fans and baseball prospectors were treated to visits of varying length from Nick Madrigal, Luis Robert, Jake Burger, Gavin Sheets, Blake Rutherford, Dylan Cease and many others.  The 2019 version of the Intimidators may not hold the same upside appeal, but that doesn't mean the cupboard is bare.  Here are some interesting Intimidators that are likely to return to Kannapolis for the upcoming season:
Steele Walker-Walker was taken in the second round of the 2018 draft (46th overall) from the University of Oklahoma.  He signed for an over slot bonus of $2,000,000 and reported to the White Sox minor league system with the lingering effects of a nagging oblique injury and hamstring issues.  He's an explosive centerfielder with a smooth and powerful left-handed hitting stroke.  Now that the injuries are behind him I expect that he will mash his way to a promotion after the SAL all-star game, much like his organizational teammate Luis Gonzalez did in 2018.  Walker is chock full of personality, swagger, and baseball skill that mesh well with his 80-grade salon quality haircut and fantastic baseball name.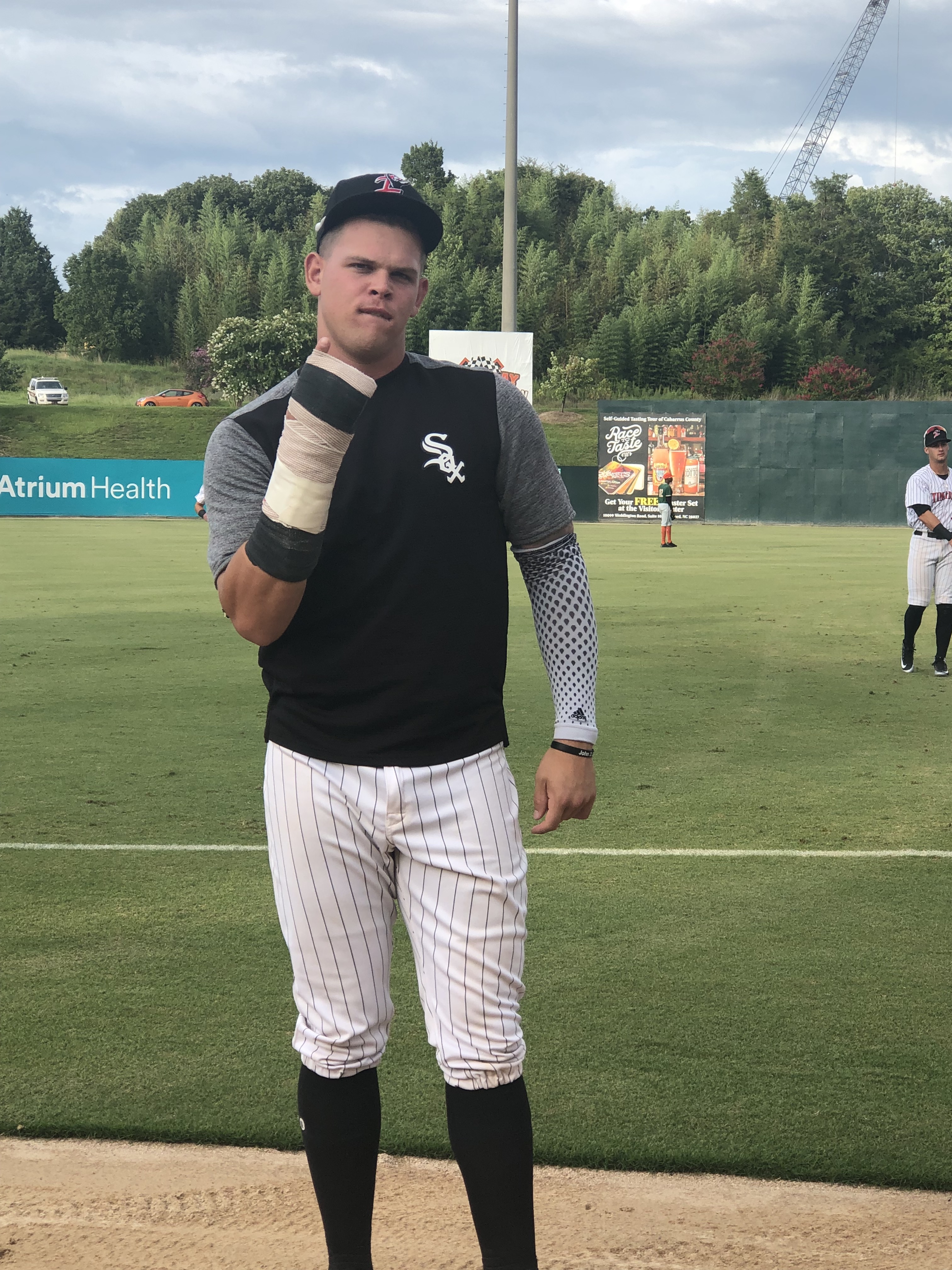 Corey Zangari-It seems like Zangari has been in the system for a long time, but he won't turn 22 until May which makes him the same age as most college seniors.  He tried Kannapolis in 2016, but was woefully overmatched by older pitchers with advanced breaking balls.  After missing 2017 with Tommy John surgery, he returned to man first base for the Great Falls Voyagers late in 2018.  For Great Falls, the hulking 6'4" 240-pound slugger hammered 9 home runs while driving in 22 runs in only 17 games.  He returned to Kannapolis in July only to miss the rest of the season after being struck on the wrist by a pitch during his second plate appearance.  A clean bill of health should result in Zangari accumulating a lot of at bats between first base and designated hitter.  In 2015 he was a 6th round pick and was signed to a significantly over slot $510,000 bonus.  Last year when he arrived in Kannapolis his body looked notably sculpted, as if he had spent a significant amount of time working on his conditioning.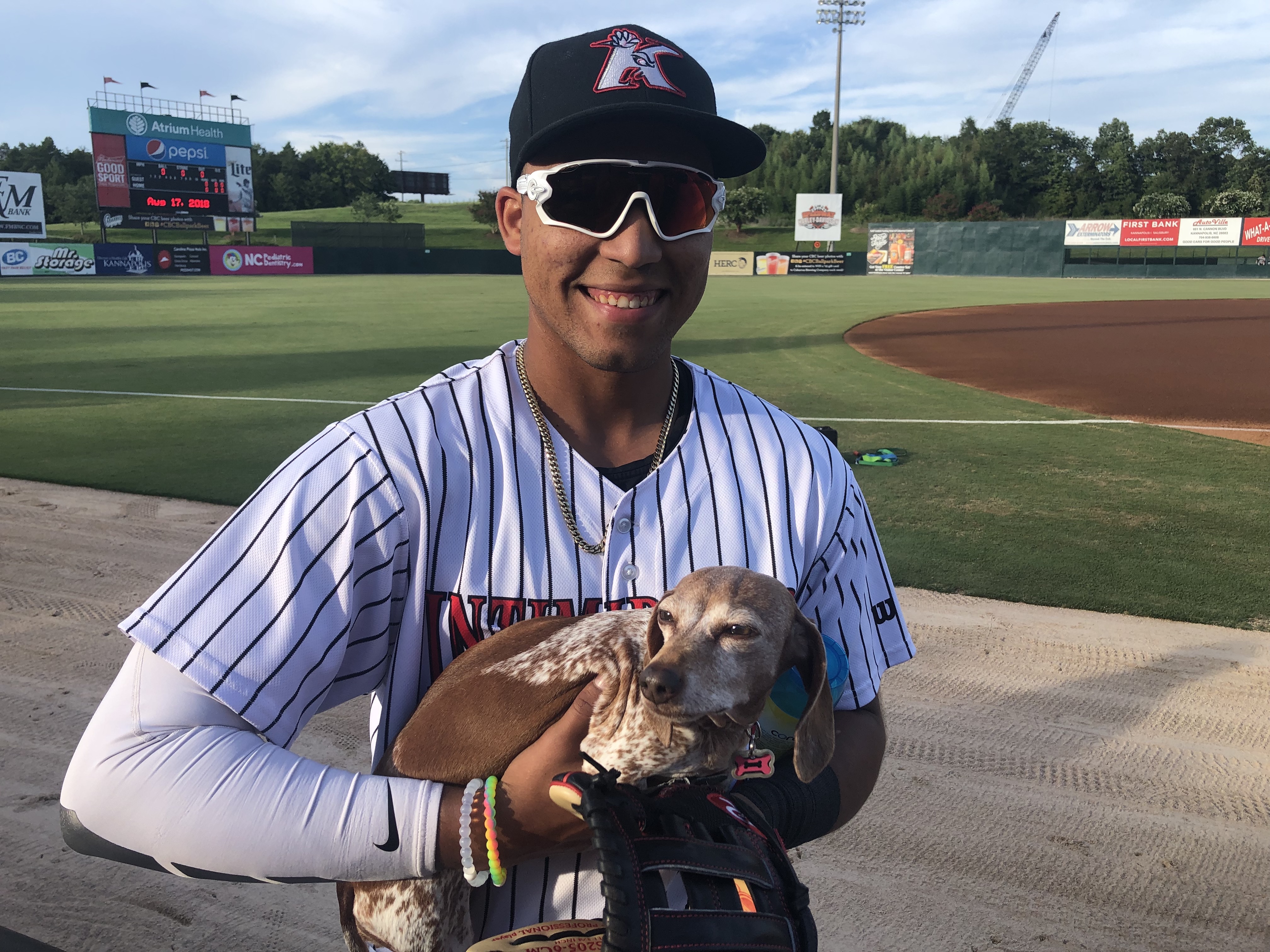 Luis Curbelo-Another high profile White Sox draftee that has experienced bad luck in the health department as he missed nearly the entire 2017 season with a torn meniscus.  In 2018 Luis was able to stay on the field and get the essential reps necessary to spur his development.  He is a big-bodied shortstop (6'3″ 205 lbs) that is in excellent shape and possesses immense offensive potential.  He spent this off-season working out and hitting with his long-time friend, Toronto Blue Jay prospect Bo Bichette.  He realizes that the rule 5 is approaching and he is motivated to prove himself and establish his role in the White Sox rebuild plans. He also has his eye on a promotion to Hi-A Winston-Salem where his former Kannapolis manager, Justin Jirschele is taking the reins in 2019.  An enthusiastic Curbelo stated, "I'm going to kill it in spring training and give them no choice but to put me there."  Due to the injuries Curbelo is still raw, but he's young athletic, talented and motivated.
Michael Hickman-Hickman was another piece of the White Sox system acquired during the 2016 draft.  He was taken in the 13th round as a draft eligible freshman from Chipola Junior College in Florida.  Chipola is a popular school for baseball players looking to enter the professional ranks, and two of his college teammates were also selected during the same draft (Reynaldo Rivera, 2nd round, Detroit Tigers and Jose Caballero, 7th round, Arizona Diamondbacks).  Hickman is a left-handed hitting, offense minded, catcher-first basemen.  He finished the 2018 season on a tear hitting .412 in his last 13 games (21 for 51 with 6 doubles and 2 HR).  He also recorded multiple hits in seven of his last eight games.  With Evan Skoug likely moving up to Hi-A, Hickman will begin 2019 with an eight-game hitting streak intact and a path to regular at bats while rotating between 1B, catcher, and designated hitter.  His Perfect Game player profile touts "huge bat-speed and power potential."