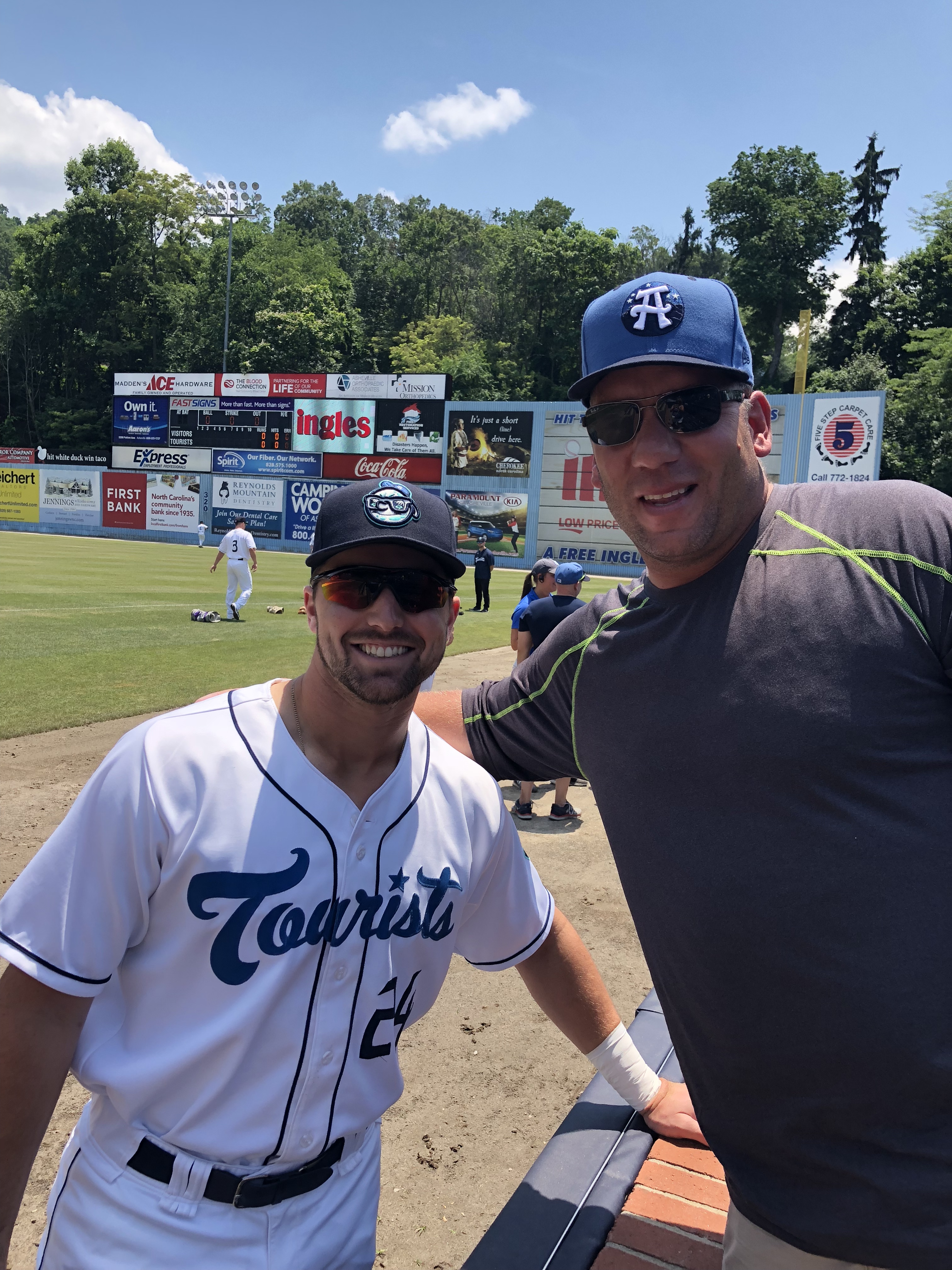 Chad Spanberger is a very interesting prospect in the Colorado Rockies organization. He played college for the D-1 Arkansas Razorbacks for two years before breaking out during his junior season. As a freshman catcher he hit no home runs, while compiling a .252 AVG .336 OBP and a 29% strikeout rate. During his sophomore season, he regressed, hitting 6 home runs with a .225 with a .325 OBP while striking out at a 39% clip. He broke out in a big way during his junior year hitting .305 with a .368 OBP while chipping in 20 bombs, of which 10 came in his final 16 games. This earned Spanberger a sixth round draft position, a $260,200 signing bonus, and a ticket to the Pioneer League where he made his debut at Grand Junction.
At Grand Junction Spanberger continued where he left off. His powerful left-handed stroke provided a lot of fireworks while he amassed 19 homers in sixty games on his way to .294 AVG. and .368 OBP. The strikeouts came in bunches though, as he whiffed 71 times in 235 at bats (30%). He is listed at 6'3" and 235 pounds, which looked to me like an accurate assessment. The swing is from the left side and looks very fluid, with good bat speed, and a propensity to generate lift.
I was able to put my eyes on him for the 1st two games of the series against Kannapolis and really liked what I saw. Spanberger went 5 for 9 striking out twice and hitting his 1st homer, which was an absolute bomb, over the power alley wall on his pull side. I did notice that the Intimidators defensive alignment featured an infield shift during one of his at bats, which suggests he may have a dramatic pull tendency. In the early going this season he has gotten off to a very hot start (.355 AVG .375 OBP). Thus far, he has been very aggressive with no walks and 7 strikeouts in his first 31 at bats. Although it's very early in his professional career, he has displayed a weakness against left-handed pitching but he mashed against righties.
Playing half of his games in Asheville, which is geared, for a left handed power hitter, I expect Spanberger to thrive. The dimensions in right field at McCormick field are a cozy 297′ with a 36′ wall. I wouldn't be the least bit surprised if he ends up leading the Sally in HR. He may also rack up a ton of doubles playing pinball against the right field wall. Defensively there is nothing spectacular about the glove and the running speed is typical of what you would expect from a catcher converted to a 1st Baseman. The moneymaker for Spanberger will be his power tool. If he continues to drive the ball the way he has, he may live up to the lofty Chris Davis comparison that some scouts have tagged on him. If you're out and about near Asheville I would highly recommend taking a trip to McCormick field to see Spanberger take batting Practice. His teammate Garrett Schilling told me he puts on quite a show. If he reaches his ceiling I envision a .240-.250 hitter with 30+ home runs and 120+ strikeouts. If he falls short I imagine him being an effective power hitter on the left side of a platoon.
As a follow up: Spanberger won the home run derby at the SAL all star game, was promoted to Hi-A and traded to the Toronto Blue Jays organization. His promotion cost him a solid chance of winning the SAL home run title. Funny that I referred to a Chris Davis comp favorably in the last paragraph of this article… I guess I was thinking about his peak years.