His teammates call him "Deeds". But unlike the Adam Sandler character in the movie Mr. Deeds, when Craig Dedelow comes up to hit, his opponents aren't laughing.
The Kannapolis Intimidators left fielder is using his blue-collar work ethic to establish himself as a legitimate prospect in the White Sox system. He currently leads the South Atlantic League in doubles (19) and outfield assists (9) while also leading his team in triples (4) and is second in runs batted in (34). Dedelow is an overachiever; truth be told, he has already exceeded expectations just to get here.
After a three-sport prep career that included football, basketball and baseball, Dedelow explains, he began an e-mail writing campaign to "pretty much every D-1 school surrounding Indiana, and I didn't get a lot of responses. Only Purdue and Indiana showed interest." With his mind set on attending Purdue, he received a call from Indiana University's head coach Tracy Smith who invited him to visit the campus. IU had reached the College World Series during the 2013 season, which provided much of the impetus for Dedelow accepting a recruited walk-on spot. Purdue's loss was definitely IU's gain, as Dedelow seized the opportunity. After three credible seasons, he was selected by the Pittsburgh Pirates in the 34th round of the 2016 draft, but rather than accepting the offer, he returned to Indiana for his senior year.
That offseason he made a conscious effort to improve his power by working out with the IU strength staff every day. The increased muscle led to a home run surge. After hitting only 12 combined home runs during his freshman through junior years, he put up a gaudy 19 during his encore, senior season. Dedelow stated, "I made a lot of strides, which led to the home runs; which I think opened some eyes come draft day." His decision paid off, as the White Sox used their ninth round pick in the 2017 draft to bring Dedelow into the fold, an improvement of his draft stock by 25 rounds, or 768 picks.
Dedelow reported to the Pioneer League and began chasing his major-league dream with the Great Falls Voyagers. He took quickly to pro ball and suggested, "There wasn't really a big adjustment for me, the biggest difference is being so far from home, but you get over that within the first month." Statistically, he continued at Great Falls the way he finished at IU, hitting .321 with another 12 long balls.
Craig entered the 2018 season with great expectations, and has thus far lived up to them. His consistency has been impressive as his longest hitless streak of the season has been three games. Dedelow is listed in the team media guide at 6'4", 195 lbs. Although he is lanky, his true weight is 215, with the extra pounds coming from increased muscle mass. He bats from the left side of the plate with a somewhat unusual set up. It looks as if his lower body weight is set back on his trailing leg while his upper body appears to be more upright or forward leaning. His set position is somewhat reminiscent of the "stack and tilt" golf swing. He holds his hands around eye level near his left cheek. Here's a view from the open side: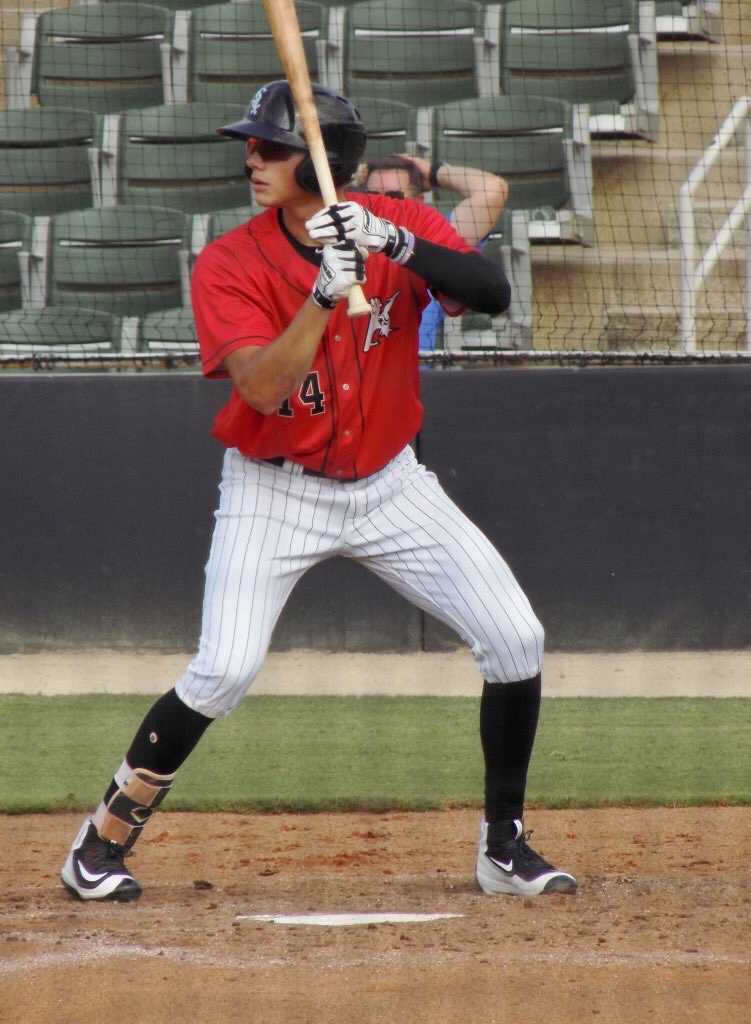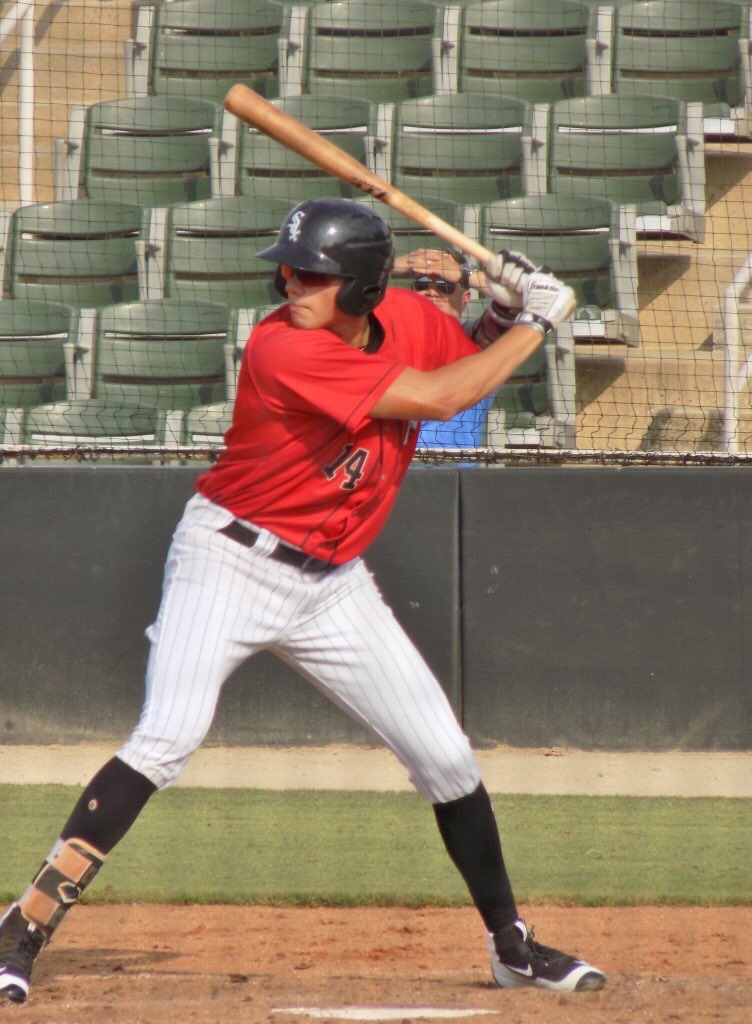 When the pitch is thrown, he cocks his bat, bringing his hands near his trailing shoulder while taking a short stride into the pitch. Finally, he unleashes the beast and whips the bat through the zone. There are a lot of moving parts, but the swing itself looks much more athletic than the set up and the bat speed is very quick. His path looks more suited for gap to gap line drives in its current state, and he does spray those all over the field. His frame still has projection for additional muscle and it's easy to foresee more of those doubles turning into home runs (he has 4 thus far with Kannapolis, playing home games in a park not suited to power).
In the outfield, Dedelow has a long, loping stride and takes good routes when tracking down fly balls. He has done well with the glove and his accurate throwing arm has been responsible for those eight outfield assists. Dedelow expressed satisfaction with his defense and offered, "I feel that defense can always be played at a high level, no matter if you're struggling at the plate or not, it's all about a sense of pride."
Another attribute that is very easy to recognize about his game is he always hustles and never "checks out" mentally. His first at bat against Hagerstown on 6/1 was a prime example. With the Intimidators staked to a 0-2 deficit he came to bat representing the potential third out of the inning. He rolled a weak grounder toward the gap between the first and second baseman, which was fielded by the pitcher. Many young players would have felt disheartened by the contact and not given their max effort to beat the play at first. Instead, Dedelow found an extra gear and hustled down the line for an infield single. He scored the game-tying run when Tate Blackman followed with a two-run homer. He offered this self-assessment: "I think I have the ability to do the little things offensively to keep the order moving, whether it be bunting a guy over, or getting the big hit. I think I have the confidence to stay level-headed in key moments of the game."
At the plate, Dedelow has constructed a respectable .284 AVG and .778 OPS. His strike out rate (21.4%) and walk rate (5.3%) are areas in which he recognizes the need for improvement. "I think I need to work on plate discipline. I am an aggressive hitter, but sometimes I become too aggressive and swing out of the zone." While speaking to an MLB organizational scout he applied a Jeremy Hazelbaker comp to Dedelow.
Unfortunately, there is quite a numbers game going on in the outfield at the lower levels of the White Sox system. Eloy Jimenez and Jameson Fisher represent positional strength in AA. The Winston Salem team in Hi-A is loaded with outfield talent in Micker Adolfo, Luis Alexander Basabe, Joel Booker, Alex Call, and Blake Rutherford. On his own team in Kannapolis, Luis Gonzalez is posting numbers and showing skills that scream "promote me", and if that wasn't enough… international phenom Luis Robert has recently joined the squad. On the bright side, the AAA Charlotte Knights offer little more than organizational outfield depth at this time.
Overall, there is a lot to like. Dedelow offers a skill set of solid defense, an accurate throwing arm, plus raw power, laser-like focus, and a high baseball IQ. Sox fans should look forward to watching Dedelow develop, he offers yet another player to be excited about in the loaded White Sox system.