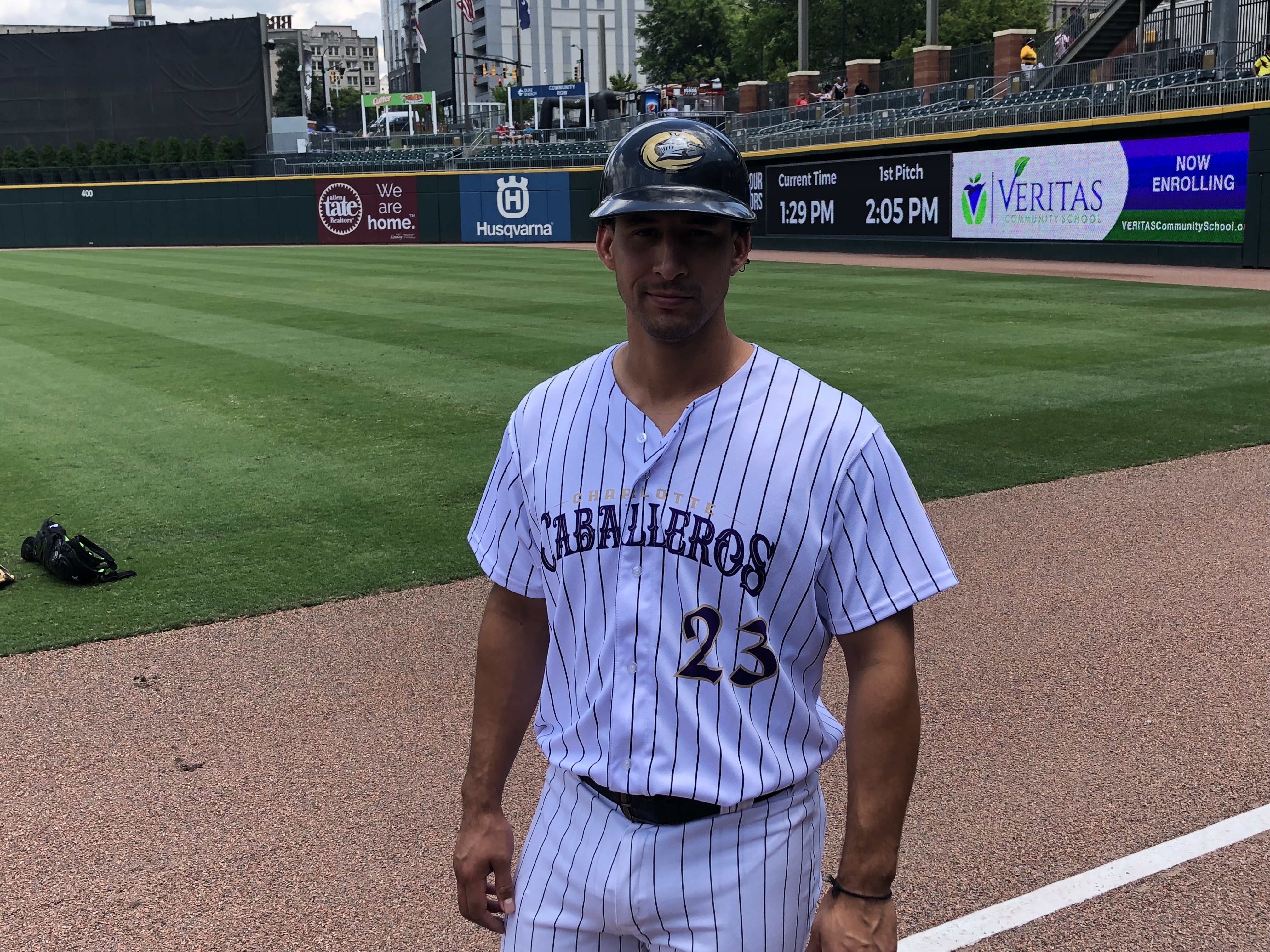 Unlike some of the other teams in the SALLY league, the Kannapolis Intimidators aren't sitting on a dearth of fast movers and potential major league impact players. However, having had the opportunity to watch them several times this season there are some intriguing prospects to tag and follow. One such player is catcher Seby Zavala. Zavala was a 12th round pick in the 2015 draft out of San Diego State University where he played under the tutelage of Hall of Famer Tony Gwynn. At SDSU Zavala caught, played third base, and spent some time in the outfield. He redshirted for one season after tearing his UCL and going under the knife for Tommy John surgery.  
In 2015 as a 21 year old, Zavala laid waste to AZL pitching to the tune of a .326 avg and 1.029 OPS, exhibiting a penchant to hit for extra bases and work deep counts. For the Intimidators in 2016 he brings that same skill set to the table. He is the field general and cleanup hitter who has shown a propensity to battle against tough pitchers while waiting for a pitch to square up. The last two nights he has faced off against Dillon Tate #4 overall pick for the Texas Ranger in 2015 and Peter Fairbanks who sported a solid fastball curveball combination and a delivery that can best be described as "Sidd Finch like". The two game batting line for Zavala doesn't tell the entire story as he went 0-5 with 3 walks and one strikeout. Zavala made solid contact on his outs, made the pitchers work to get him, and looked like he just missed tallying hits in at least two of those at bats. His approach is excellent as he waits for the pitch he can drive, even when down 0-2 in the count against Tate he didn't fall victim to his best pitch, the slider which was regaled as one of the best in the 2015 draft. Zavala is listed at 5'11" 205, but he looks to me like he is probably 10-15 pounds lighter than that. His swing generates a lot of loft and he is willing to hit pitches to the opposite field. 
Defensively, he sports soft hands and very efficient footwork. For a guy that was considered to be a work in progress at catcher he excels defensively. His throwing arm is viewed by professional scouts as slightly below average which I assume is a byproduct of the Tommy John surgery of 2012. However, his ultra-efficient pop-step-throw mechanics and laser like accuracy have allowed him to devastate his opponents running game. Thus far he has nailed would-be base stealers at a 37% clip. He is a very perceptive player and is not afraid to throw to catch runners off guard at first base which he did in back to back games against Greenville and Hickory earlier in the week, and he nearly caught a runner leaning off of second last night. From the multiple games that I have observed his baseball IQ is stellar. Zavala was recently selected as a SALLY league all-star and is a name for White Sox fans to keep an eye on. I look forward to watching him grow as a player and feel like he is only going to continue to improve. The professional scouts profile Zavala as a major league backup. From my vantage point I see more. There are some questions, but there is an awful lot to like here and there will always be an organization willing to develop a cerebral, athletic catcher who can stymie an opponent's running game and bring the occasional thunder with his bat.
Follow up: Seby is now a member of the White Sox 40 man roster and on the verge of a big league call up. I have kept in touch with him for the past three years and he is as nice a kid as he is good as a ball player. He might not have the god-given talent of some of the other top prospects, but his effort and they way he keeps his nose to the grind stone are really inspirational. He also doesn't let things bother him. When the Sox selected Collins who shares his position he wasn't intimidated or bothered. When Collins was promoted ahead of him he said, "That's the business of baseball, I don't let those things affect me." When he and Collins were playing together at AA they were roommates and shared tips with each other about handling opposing hitters.