I was recently asked why (in their opinion) I wrote all of my articles as if every player I was profiling was Barry Bonds. Hmmm??? I thought before answering, but it's a very simple and very honest answer. It's because I don't write about guys that I don't think have a legitimate shot to make the big leagues. Will they all be all-stars? Absolutely not, but if I am writing about someone that means I don't think they are going to wash out in Hi-A. There are numerous guys that I really like that I considered writing profiles about last year, but I wasn't feeling certain that they will make it to baseball's highest level. Here are some of the profiles that never were.
Yohel Pozo (Texas Rangers, Hickory Crawdads catcher) I love the bat to ball skills and developing power. Not too sure about the catching defense or whether the "see ball-hit ball approach" will work as he climbs the rungs.
Matthias Dietz (Orioles, Frederick Keys SP) perhaps the best fastball of any starting pitcher I saw in the SAL last year. This kid can bring it. He sits 95-96 and touches 98, was probably as least 3 ticks harder than any starting pitcher in the SAL all-star game. However, the control is bad and the command is non-existent. I think very highly of this young man and want to see him succeed, but I wasn't going to write a profile about him saying, "I love the arm, but he has no idea where it's going." I'm still pulling for him though and will be checking his box scores after every start.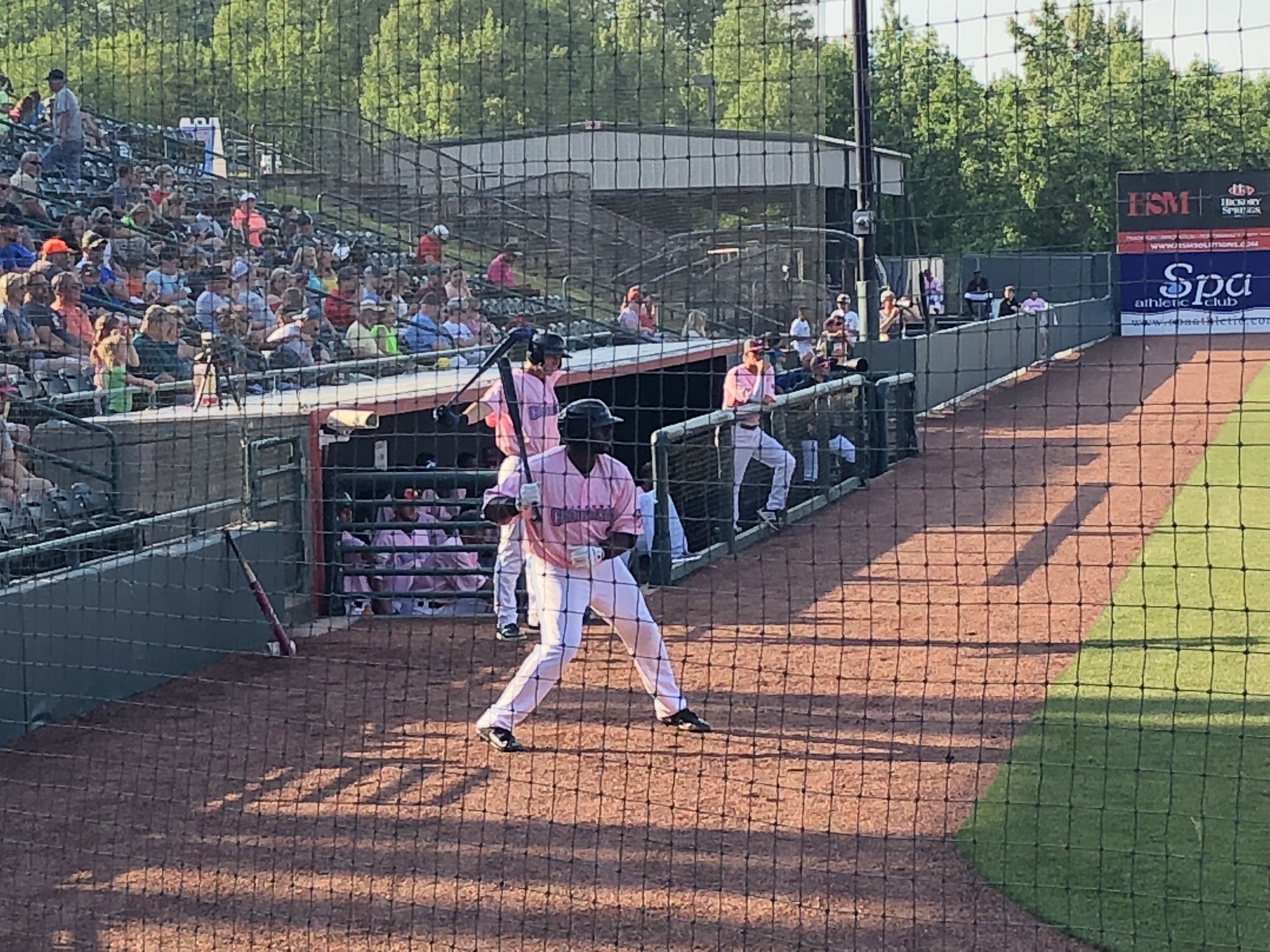 Tyreque Reed (Rangers, Hickory Crawdads first basemen) has tremendous power and a body reminiscent of Prince Fielder. Started cold as he adjusted to the SAL and destroyed baseballs the final two months. Tremendous bat speed. I was just on the fence about writing him up because of the big stocky body listed at 6'2″ 260 and the first base only profile.
Cole Freeman (Nationals, Hagerstown Suns second basemen) Great hit tool and blazing speed. Everything you could ask for in a table setting scrappy leadoff or two-hole hitter. I love the kid. He started incredibly slow, and when he was doing poorly he still caught my eye. I kept waiting for the cold streak to end. It finally did in July and he hit lasers around ball parks for the final two months of the season slashing .330 in his last 191 at bats. This helped him recover for the year and establish a respectable .266 AVG and .354 OBP with 26 SB. He also has great strike zone judgement and discipline with only 59 strikeouts and 47 walks for the season in 522 plate appearances. I loved everything about his game. The only caveat which is likely to be held against him all the way to the big leagues is his age. He will be 24 years and 6 months old when he heads to Hi-A in 2019. It's clearly not his fault. he was a 4th round pick in the draft and he has had great success with wood bats (.374 AVG in 2016 at Cape Cod League), and played for a fantastic collegiate program (LSU). I think he will make the majors, but he needs to move quick. When I see him I get an Adam Frazier comp (Freeman has better speed), but Frazier made his big-league debut as a 24-year old rookie.
Zach Warren (Phillies, Lakewood Blue Claws closer) I noticed this kid in the first or second game of the season when he came in late against my hometown Intimidators. He had a big fastball and a nasty breaking ball and he air mailed two warm up pitches to the backstop. I was so impressed I even tweeted out to him some words of encouragement. My tweet composed on 4/17/18 said: @zdub_23 Hey Zach, I caught you in Kannapolis opening night. You sent a couple warm ups to the backstop but I thought you had a big arm. Fastball looked explosive and slider had nice bite. Just wanted to let you know I was impressed. His line that night wasn't great 1.1 IP 1 H 2 BB and 1 K. He followed up that performance by giving up runs in his next three outings (4 ER in 6.2 IP). The funny thing was I sent my encouragement after I saw those outings in the box scores. (If you don't believe me search my timeline). Funny thing is after those 4 ER, he only gave up 8 more on the entire season. His pitching line ended up being 3 wins 2 losses 15 saves 56.2 IP 33 H 28 BB and 100 K to go with a 1.91 ERA and 1.076 WHIP. He's a big nasty left-handed closer 6′ 5″ with room to add good weight. He was a 14th round draft pick and just a tad bit old for the league. Why didn't I profile him? Because although I liked him I only got the 1.1 inning look and didn't think I could go as in-depth as I wanted to. I think my radar gun was malfunctioning the night I saw him too so I didn't have velos to report.
Luis Robert (White Sox, Centerfielder) I got about 10 looks at Robert when he was with the Intimidators. He's in great shape, not jacked just in great shape. His plate approach was underwhelming. In a huge percentage of his at bats he swung at the first pitch (it was an ungodly amount). He also chased breaking balls away and either rolled out gently to the opposite field or whiffed on them. On base he was far and away the fastest runner on the team, but I saw him make two of the worst running mistakes I had ever seen. They were little-league level bad. The first one was a routine fly ball to shallow right. Robert attempted to tag from first to second. His speed made it a closer play than it should have been and the fans wanting to see the superstar were all "oohs" and "ahhhs" I on the other hand couldn't get over how horrible the decision to go was. The other time he tried to score from first base on a base hit. Once again his great speed made it closer than it should have been but he was out and killed a rally. I couldn't figure out if these plays were "development" or just evidence of a really bad baseball IQ. I never saw Robert hit BP so I didn't get to see the power and I have heard it's awe inspiring, but the approach isn't going to get it into games until he tightens it up. I am willing to give him a free pass on 2018 because he was battling a power sapping thumb injury and he was adjusting to being away from his wife and child. He also doesn't speak a lot of English and getting acclimated to the culture was tough for him. Currently even with the impressive tools I would rate him as the 7th best outfielder in the organization behind: Jimenez, Gonzalez, Adolfo, Walker, Rutherford and Basabe. Yes, I know a lot of people will take exception with that. But so far his rating has been inflated by tools (insanely high ceiling), hype, and signing bonus. The other guys have all performed, except Walker but I give him a free pass based on health and the insane travel schedule he saw while being indoctrinated to the minors. Walker has had previous success with wood bats and outhit multiple high profile draft picks as a member of the USA Baseball collegiate national team. So, I guess I'd rather be dead wrong and see him become a superstar than jump on the bandwagon and watch him flop. Right now I see a Lew Brinson comp for Robert and I would gladly trade him for Hickory's Bubba Thompson or Atlanta's Drew Waters.